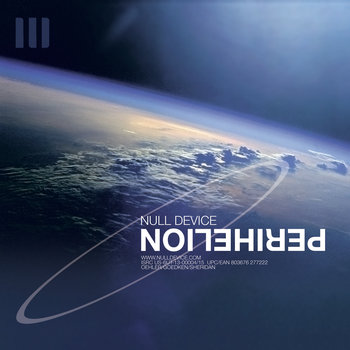 SPECIAL PERIHELION SALE! TO CELEBRATE THE EARTH'S CLOSEST APPROACH TO THE SUN (JAN 4), "PERIHELION" IS "NAME YOUR PRICE" ALL WEEK!
Null Device's unabashedly modern 5th full-length continues to blend dance music with pop hooks and instrumental influences from around the world.
Credits:
Null Device is: Eric Oehler, Eric Goedken and Jill Sheridan
All songs 2013 (Oehler/Goedken) except
Metaphysic, Retrograde (Oehler/Sheridan),
Night Owl,Cockatoo Girls (Oehler),
Torchlights (Oehler/Goedken/Sheridan)
published by Null Device Media Industries
Produced by Null Device
Engineered and Mastered by Eric Oehler at Submersible Studios, Madison, www.submersiblestudios.com
Assistant Engineer: Lenore Schmoldt
Astronomical images taken from the "Great Images in NASA" public domain archive.
http://grin.hq.nasa.gov/
NASA does not endorse Null Device. Although it'd be really cool if they did.
www.nulldevice.com
nulldevice.bandcamp.com
facebook.com/nulldevicemusic
soundcloud.com/nulldevice